Chicagoland Adaptive Climbing - Illinois
06/20/2022 06:00 PM - 08:30 PM CT
Location
Maggie Daley Park
337 E Randolph St
Chicago, IL 60601

Summary
This program is in partnership with the Shirley Ryan AbilityLab.
Description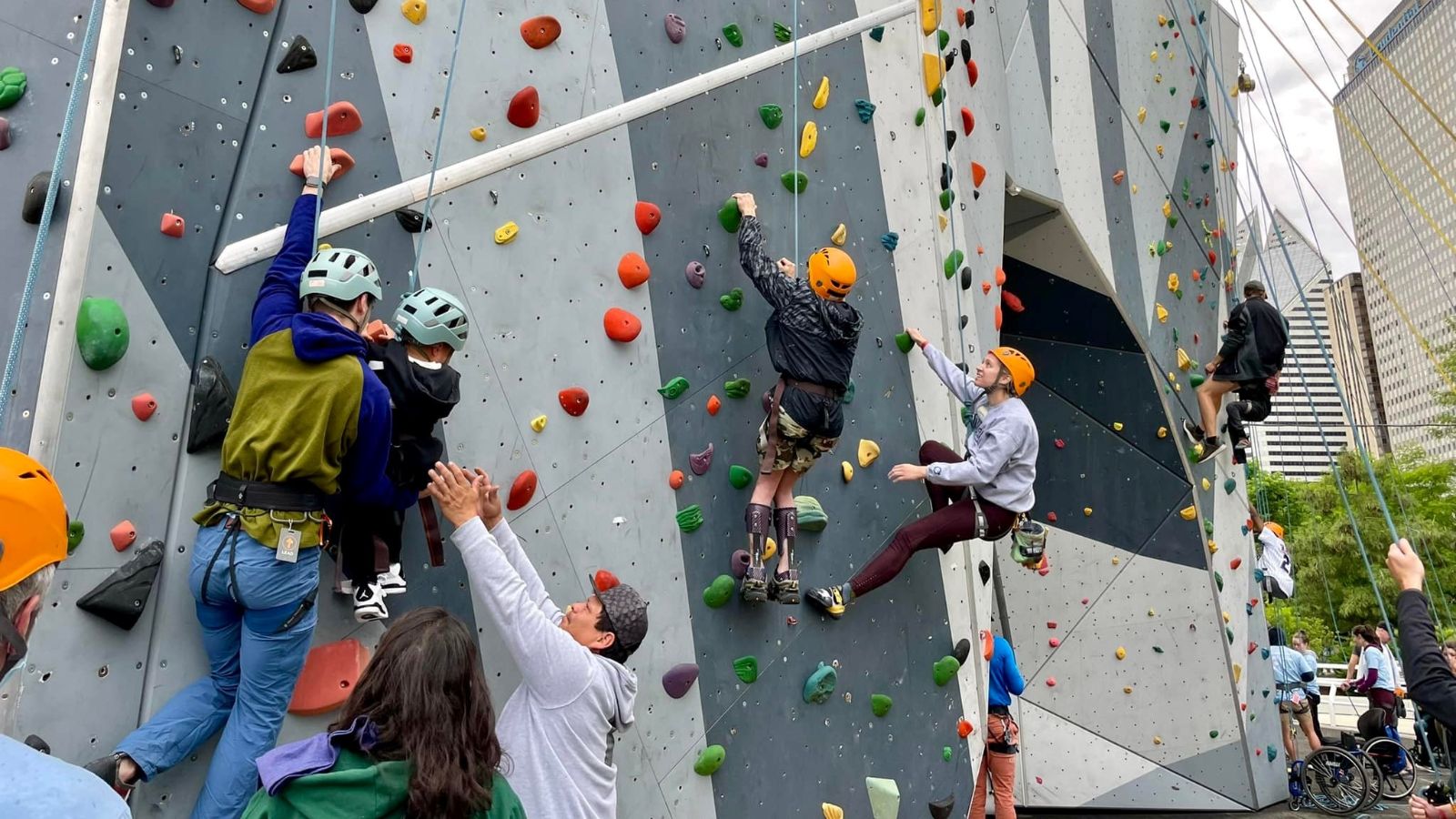 Join Adaptive Adventures and the Shirley Ryan AbilityLab for an awesome evening of adaptive rock climbing. We have trained volunteers who will help you climb any route. Climbing fosters an amazing sense of community, trust, courage, and accomplishment. It can be easily adapted to almost any ability level. Through climbing, you can break through barriers and summit to new heights.
We are currently accepting participants into two different sessions (6:00 - 7:15 or 7:15 - 8:30). Participants must come at the session time they sign up for. If you come earlier or later than your allotted time, we may not be able to accommodate you. Volunteers must sign up for a specific role. Please do not sign up for a roll you do not feel comfortable in. Volunteers will stay for both sessions.
You MUST register to attend! If you show up without registering we will not be able to accommodate you. Please arrive on time.

Costs:
Participant: $10.90 for Civilian w/ Disability. Free for Veteran w/ Disability. Price includes essential climbing equipment, instruction, and lots of fun!
Volunteers: Registered volunteers assisting with the program are free thanks to the generous support of First Ascent climbing gym.
Thanks to the generous support from our sponsors and donors, the partnership with SRALAB and First Ascent gym, we are able to keep these costs extremely low and provide scholarships for those in need.

Register:
Registration is required to ensure that we have enough volunteer support and the appropriate equipment for you to have a successful evening! Beginning October 1, 2021 the Shirley Ryan AbilityLab is mandating that all staff, volunteers, and participants be vaccinated in order to participate in any sport programs. As the climbing program is a partnership between Adaptive Adventures & the Shirley Ryan AbilityLab this policy must be followed by all participants. Please complete your vaccination verification here or contact Demi Madden for more information.
QUESTIONS?
Jourdan Thunberg - jourdan.thunberg@adaptiveadventures.org or Demi Madden - dmadden@sralab.org