Adaptive Yoga-Colorado
03/13/2023 06:00 PM - 07:00 PM MT
Location
Adaptive Adventures-CO Office
9053 Harlan Street Suite 34
Westminster, CO 80031
United States of America

Summary
March Programs open for registration on February 6!

Join us for this relaxing adaptive yoga program right from our Denver office. We will engage in a 1 hour yoga class that will be for all abilities and levels. Registration is required and we recommend bringing your own personal mat. We have limited equipment available upon request.
Description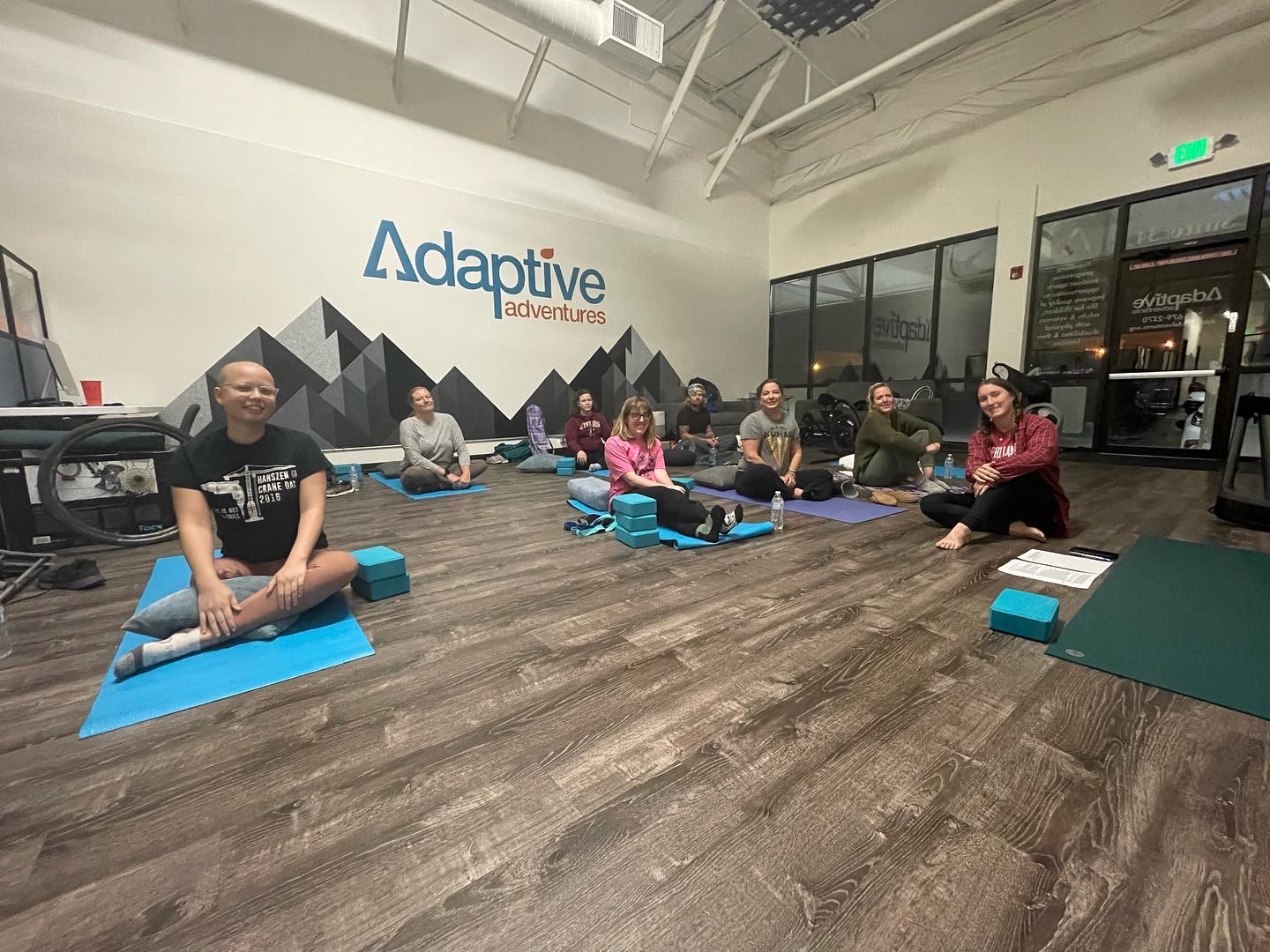 ---
March Programs open for registration on February 6!
---
Short Description:
Start your Mondays with a relaxing yoga class led by our instructors who will lead you through a set of poses and meditation to help you relax. This class is open for all abilities and levels in which each week participants will learn how to stretch, engage their core, and bond with the class. This series is part of our ongoing winter programs that incoporate conditioning and positive building for all our athletes. We invite you to experience this peaceful class to help decrease stress, build flexiility, and try something new.
Yoga has been supoported by various research that it has had positive benefits including stress management, increasing flexibility, mindfulness,and improving respiration. At Adaptive Adventures, we are excited to introduce this program and are always looking to improve our programs.
---
Goals:
Increase flexibility & range of motion

Decrease stress & build a positve mindset

To learn new stretches, core workouts, and breathing techniques

To increase energy & introduce a new type of program

---
Who can attend?: Individuals with physical disabilities over the age of 18 years old, their family and support members, volunteers and community partners.
Expectations: Must be able to self-transfer up or down by 12+ inches; must be comfortable in close confines with other athletes; must be 18 years or older to participate.
How should I dress & things to bring? : Please wear moisture wicking and comfortable clothing, closed toe shoes and a small towel for sweat.
Participants are recommended to bring a water bottle, snacks, and yoga mat for post stretching.
Yoga Mat
Yoga Blocks
Water Bottle
*We will have equipment available on a limited basis.
Timeliness: All participants, volunteers, and community partners are expected to register for each event, arrive on time, and be ready for the class. Please notify staff in case of cancellation, running late, or any other event. The class will start at 6 PM MST sharp and participants who arrive 10 minutes after without notice will not be allowed to participate in class.
---
Map:
Adaptive Adventures, Colorado Office
9053 Harlan St., Suite 34
Westminster, CO 80031
---
Contact Information:
Please contact GIlbert if you have any questions about the program, registration, or any other concerns you may have.
Gilbert Vasquez
gilbert.vasquez@adaptiveadventures.org
(720) 679-2770